This project was a full renovation with the customer already having an idea of what their vision wanted to be. It was an interesting in the fact that the customer gave us the freedom to pretty much do what we wanted in order to realise their vision.
The customer had looked at moving but realised the cost would far exceed what they had in mind for their ideal house. Plus, they have lived in the area for many years, so wanted to stay with their local community that they were use to.
The whole property was completely 'renovated' from top to bottom and remodelled so that the family had a better form of living space. The property also had a full damp proof course and brand new central heating system which included all the pipework.
Below are some initial before pictures of the original property before the real work started.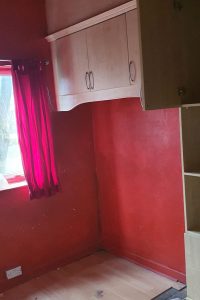 As you can see from the pictures above, they property was in need of modernising. The work that was carried out was over approximately 4 months. The customer moved out as the property was not habitable for a period of time due to the extent of work being carried out.
Work underway, with the chimney being removed from the lounge and bedroom area.
Lounge and Kitchen area completely removed, with main internal walls being taken right back to the bare brick.
The whole upstairs area was remodelled. The Bathroom was eventually made bigger due to relocating the stairs in the lounge area.
The whole property was plastered throughout, damp proofing and full electrical rewire. The original staircase was removed from the kitchen and a new one installed in the front to allow for storage a downstairs toilet and larger kitchen / living space. The property had a new bathroom suite and fitted kitchen, it was also totally redecorated throughout with a neutral palette.
Larger access to rear of the property with the installation of Fresh doors
The rear door area was made bigger to allow for external 'French doors' being installed.
New Kitchen and Bathroom and Living areas
The property also benefited from newly installed double glazed windows and front porch, which allowed the lounge area to be utilised fully. A new independent mains water feed was installed to improve the water pressure, which is a common issue on this type of property.
See our YouTube video on the main home page which is a good overview of this project!